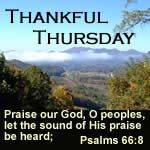 I am joining Greg and the Gang over at his General Store once again for Thankful Thursday. Here are my top 5 for the week...cause I know I have lots more then 5 to be thankful for!!
1. Music from the past that I can hear and be transported back in time...and feel that same emotional connection....just like this particular song.....I remember hearing it when Greg and I had gone through a really bad time....but we stuck it out...and I can hear this song so clearly from that time, and the song itself was enjoying a re-newel also.
2. We had a really good class tonight. Sometimes I really feel I'm getting through to the youth.
3. My oldest is singing today in Nashville for the Tennessee Music Educators Conference.....I am thankful he has had all these opportunities with the Boys Choir...including visiting Heather's neck of the woods a couple of years ago..Ireland.
4. OK random....my big V8 engine in my Sequoia...I can pass slower cars quite quickly now....scares my children but I enjoy it!
5. I was trying to explain tonight to my youth class how
this name
just fills me up and just evokes amazement within.....
JESUS THE CHRIST
.....can I get an Amen to that!!
Join us at Greg's every Thursday and link up!