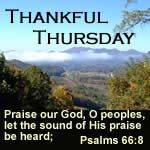 I am celebrating Thankful Thursday once again. My 5 for this week are:
1. My youth group for participating in Spirit Jump's Cards For Cancer Day on April 10th.
2. One of my BFF's sister-in-law had her baby girl this morning...I just love babies...obviously.
3. This is random..my cowboy boots....I always get a little swagger when I wear them.
4. Forward progress in the continuing 5 yr remodel of the basement, woohoo!!
5. Jesus The Christ....I so look forward to seeing his face one day!!
Thank you
Greg
for taking up the TT banner at your
General Store
. It helps to hold me accountable to what is really important in my life...my thankfuls!