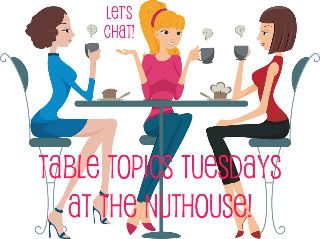 My buddy
Shannon
over at
Welcome To The NutHouse
hosts Table Topics Tuesdays. And for today the question is:
what possession of your spouse's/significant other's would you most like to throw away?
Oh this one is so easy for me! Greg was married before and used to go deep sea fishing with his ex. One trip he caught this big orange fish and had it mounted and everything like a "trophy". Now we've been together almost 23 years and he was divorced when I met him...but that
&%$*@ fish has always been around to remind me of the lovely times THEY USED TO HAVE!!!! But, he does not keep it at the house, he did try that ONCE, so it hangs in his office....I would throw that sucker back into the sea GLADLY!!!! The kids took this picture of one on TV that looks exactly like Greg's fish:
Yeah I know....lovely!
Now write your own Table Topics post and link up over at
Shannon's
so we can all share the joy!!